My mouse isn't working properly. Eh.
Anyway, I was reading through
all of the hooks
over on
Lit Agent X
, which is cool, and I can't believe I didn't know about it. I would have entered mine, if I could have.
I don't know if there's any way to make text unsearchable, but I couldn't come up with it, so here are four hooks. They're subject to deletion later, as per the second to last paragraph. If anyone out there reads this blog, let me know what works and what doesn't work in them.
Please?
Oh, right. Alex was named before Lex, and way before I met real Alex. Apparently sometimes I say things, and people aren't sure which of the the Alexes that I'm talking about. That's a problem. Saere's name is also years and years old, but subject to change.
Here are the hooks: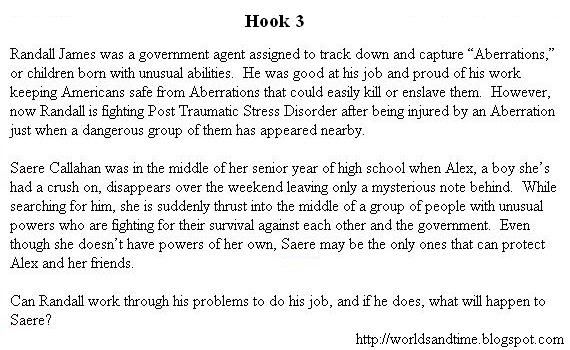 Does anyone else really like number 4, like I do? I think it's great, compared to the others. It catches me and it's got such bizarre elements to it. Obviously it's for book two of my series, the sequel to book one, which is represented by the first three hooks.
In fact, when I started planning this whole series and I cam up with the idea to set it on Earth-that-we-know instead of a galaxy far away I had thought that it would be cool to take the concepts that we're familiar with (MIB, kids with super powers, high school) and end up in a place that was totally different than where it started.
Where my first book ends (and thus, where the second one begins) is really kinda cool. It makes a great hook (in my personal opinion).
The problem is that all the hooks for book one are boring. Any editor or agent is going to be like Lit Agent X and say "Haven't we see all this before?" and "Why should we care about all these disaffected teenagers? They don't even seem to care about themselves."
If you read the third hook and liked it, so do I. Except for that last sentence, which needs some work. Anyway, the point is that neither side gets everything it wants. The government doesn't succeed, but the kids certainly don't "win" in a conventional sense. This isn't a fairytale.
Anyway, I don't want you to remember that last hook, because I want people to be surprised by the end of my first book. So eventually, it's going to vanish (and don't spoil the ending for anyone, please). When you buy my book, remember to be shocked at where it ends, okay?
In the mean time, I'd love comments on how to improve the first three hooks. What worked, what didn't work? I've got to sell book one, somehow, before I get to book two.
Labels: internet, media, publishing, writing